Press Release
Commuting For A Good Cause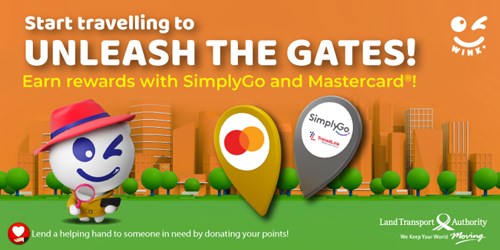 SINGAPORE, 30 NOVEMBER 2021 – Since the launch of SimplyGo[1] in 2019, more commuters have switched to using contactless bank cards[2] to enjoy an easy and convenient commuting experience on public transport. As of end October this year, the monthly number of trips made by SimplyGo users constituted 22% of all monthly adult trips[3] made on public transport.
2          As part of the on-going publicity efforts to encourage commuters to use contactless bank cards for public transport fare payment, Mastercard® and Stellar Lifestyle Pte Ltd's media and digital arm, Stellar Ace[4] have come on board as partners of the new Unleash the Gates (UTG) campaign[5] with Transit Link Pte Ltd (TransitLink).
3          From 1 December 2021 to 18 January 2022, commuters who use a contactless bank card for fare payment will be able to play and earn reward points (known as WINK+ points) when they register an account with TL SimplyGo app and add their bank card used for public transport. The WINK+ points earned can be redeemed for public transport fare rebates or direct cash discounts at participating merchants' outlets.
4          Tying in with the festive season of giving, the reward points can also be redeemed as donations to The Straits Times School Pocket Money Fund to help children from modest-income families with their school-related expenses. 
5          Ms Deborah Heng, Country Manager, Singapore, Mastercard said: "Since implementing contactless solutions for an open-loop transit system in Singapore, commuters have been enjoying a much simpler and smoother commute with a Mastercard in hand. As a longstanding partner of LTA and TransitLink, Mastercard is pleased to jointly promote SimplyGo again, by partnering with Stellar Ace this time to encourage commuters to contribute their WINK+ points to The Straits Times School Pocket Money fund in a simple, fuss-free way. Mastercard works to make a difference in communities across the world to do something priceless, and with the year-end festivities underway, this initiative aims to remind everyone to reflect on the spirit of love and selflessness by showing their support and lending a helping hand."
6          Mr Yeo Teck Guan, Senior Group Director, Public Transport, LTA said, "We have seen a strong uptake of SimplyGo since its launch with an average of 600,000 daily trips. A key reason for this is its ease of use. Commuters can simply tap in and out with their contactless cards or mobile wallets when they travel on public transport without the need for upfront top-ups or pre-registrations.  They may check their travel history and fares on the go with the TL SimplyGo app. We hope this meaningful initiative will encourage more commuters to try out and experience the convenience of contactless transit payments for themselves."
Unleash The Gates Campaign Mechanics
7          Commuters who have a contactless bank card added to their TL SimplyGo account, will receive a unique participation code to access 400 virtual gates where they can earn reward points. Users who add a Mastercard debit, credit or prepaid card[6] to their TL SimplyGo account will gain access to 100 more exclusive virtual gates for more points. New TL SimplyGo account users who pay for a minimum of 60 trips[7] with their contactless bank card during the campaign period will also receive extra points. Please refer to Annex A for more details on the UTG campaign mechanics.
8          "Our TL SimplyGo app supports LTA's SimplyGo initiative, which allows contactless bank cards to be used for public transport. We hope that through this "Unleash the Gates" campaign, more commuters will adopt our TL SimplyGo app for their travel-related needs. Currently, they can already view their travel transaction history, perform travel card-related services and plan their public transport journey via our mobile app while on the go. We want to add value to TL SimplyGo account users by rewarding them with more than just the ease of using our app. Hence, we are working with partners to introduce more lifestyle offerings such as this reward campaign, on top of the many services already available on our mobile app to assist commuters with their travel-related needs," said Mr Lee Yuen Hee, Chief Executive Officer, Transit Link Pte Ltd.
9          Ms Jeslyn Tan, Managing Director, Stellar Ace said, "This first synergistic partnership between Stellar Ace, LTA, TransitLink and Mastercard will benefit our commuters and customers as we bring together a complete transit payment and rewards ecosystem. We're proud to have our WINK+ app be part of this strategic long-term partnership with TransitLink. Amassed with more than 200,000 users, we deliver a seamless Offline to Online engagement and rewards experience through our gamification capabilities of WINK+ Gates for this campaign. Our recent Gold Award win for the Best Use of Direct Marketing (Loyalty and Engagement Awards 2021) reinforces the app as the right platform for this campaign."
Reward Point Redemption
10        Participants can start to redeem their WINK+ points as donations or public transport fare rebates via the WINK+ app from 31 January 2022 to 1 March 2022, both dates inclusive. They will be able to redeem for participating merchants' deals anytime. More details on the UTG campaign are available at https://bit.ly/UnleashTheGates.
[1] SimplyGo, an initiative launched by the Land Transport Authority of Singapore, allows commuters to enjoy a "tap and go" fare payment experience by simply tapping their contactless cards or mobile wallets (i.e. Apple Pay, Fitbit Pay, Google Pay, and Samsung Pay) on the bus fare readers or train fare gates. Charges for public transport rides will be reflected in the commuter's credit/debit card bill or bank statement, similar to the experience for contactless retail transactions.
[2] Contactless Mastercard and Visa credit and debit cards, or Mastercard and Visa credit and debit cards added to their mobile wallet.
[3] Excluding trips made using a Concession Card, Standard Ticket and Tourist Pass.
[4] WINK+ app is Stellar Ace's rewards engagement platform for commuters, merchants and advertisers.
[5] NETS contactless cards are not eligible for this campaign.
[6] Some Mastercard debit, credit and prepaid cards are not accepted for public transport fare payments. Please refer to the SimplyGo FAQ for Contactless Bank Cards for the full list of cards that are not accepted for fare payments.
[7] A trip refers to a single bus or train ride made by a commuter.