Press Release
TransitLink Launches First e-Lobby at Bukit Panjang Integrated Transport Hub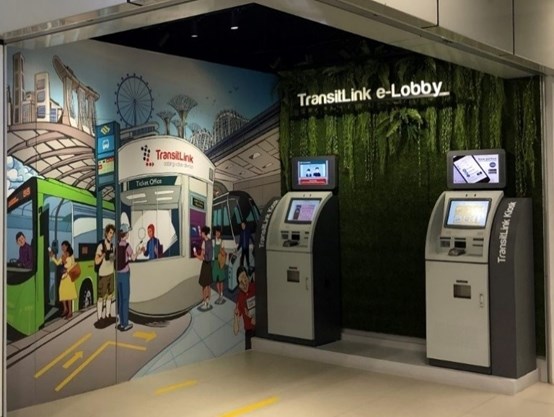 Dr Vivian Balakrishnan, MP for Holland-Bukit Timah GRC and Minister for Foreign Affairs and Minister-in-Charge of the Smart Nation Initiative launches TransitLink's first e-Lobby
 Live demonstration for invited guests and residents of the constituency
 First self-help e-payment kiosks for immediate application and 24/7 collection of concession card replacements

Enhanced services of TransitLink Kiosks since its launch in 2016
Singapore, 7 July 2018 - Transit Link Pte Ltd (TransitLink) launched its first ticketing e-Lobby at the Bukit Panjang Integrated Transport Hub today. The event was graced by Dr Vivian Balakrishnan, Minister for Foreign Affairs, Minister-in-charge of the Smart Nation Initiative and MP for Holland-Bukit Timah Group Representation Constituency (GRC). Dr Vivian Balakrishnan was joined by Mr Baey Yam Keng, Senior Parliamentary Secretary, Ministry of Transport and Ministry of Culture, Community and Youth, Mr Yeo Teck Guan, Group Director of Public Transport, Land Transport Authority (LTA), Mr Tan Kian Heong, Managing Director, SMRT Buses and Roads Services, Mr Tan Hup Foi, Chairman of Board of Directors, TransitLink and Mr Lee Yuen Hee, Chief Executive Officer, TransitLink. Over 40 residents from the Holland-Bukit Timah GRC were also invited to try out the functions of the TransitLink Kiosks (TL Kiosks).
2          The TL Kiosks at the e-Lobby provide commuters with a 24/7 self-help service. A first of its kind, the TL Kiosk supports on-the-spot application and collection of concession cards for immediate use. This will allow commuters to replace their cards without the hassle of long queues or being limited by the opening hours of manned counters. Other integrated features of the kiosks include purchase of concession passes, travel card top-ups and the redemption of travel vouchers and Travel Smart Rewards.
Positive Reviews from Pilot Kiosk at Buona Vista MRT station
3          TL has received positive reviews about the TL Kiosks since the roll-out of a pilot kiosk at Buona Vista MRT station in 2016. To-date, over 120,000 transactions have been made at the TL Kiosks islandwide. The growing number of transactions performed at the TL Kiosks shows that commuters are increasingly open to the use of e-payments and self-help machines for travel needs.
 4          TransitLink has continued to enhance the services at the TL Kiosks. Since the 2016 pilot, TL Kiosk services have been expanded to cover the replacement of all 11 personalised concession card schemes, up from the five schemes previously. They include:
 5          The kiosks have also been enhanced to provide commuters with more e-payment options in addition to NETS, including Mastercard, Visa and JCB credit and debit cards.
Meeting the Needs of Our Commuters
6          Since the beginning of this year, more than 6,000 concession card replacements were made at the TL Kiosks. The majority of these replacements was for lost School Smartcards, which made up over 60 per cent of the total replacement cards issued. 
7          Parents with young schooling children will benefit from the on-the-spot card replacement function of the TL Kiosk. Parents can apply and make payment for the replacements of their child's lost concession card online via the TransitLink Mobile Services app or website (www.transitlink.com.sg). The child can then independently, or with a caregiver / guardian, collect the replacement card immediately at the kiosk, using the QR code or reference number provided by the parent. This makes it more convenient when compared to making the replacement at manned counters.
Lower Fees for Concession Card Replacements
8          To encourage cardholders to apply for card replacements via self-service channels, lower fees have been introduced for commuters who apply through the TL Kiosks, TransitLink Mobile Services app and TransitLink website.
 9          The differentiated fees are illustrated in the table below: 
 

Self-Service Channels

(Online / Mobile /

TL Kiosk)

Concession Card Replacement Offices (CCROs)

Administration Fee

Concession Cards

$7.00

$8.00

All Other

Concession Cards

$11.00

$13.00

Personalisation Fee

All Concession Cards

$3.10

Card Cost

All Concession Cards

$5.00
Proliferating TransitLink Kiosks to Benefit More Commuters
10        Other than the TransitLink e-Lobby at the Bukit Panjang Integrated Transport Hub, there are six other TL Kiosks presently located islandwide, including:
Buona Vista MRT Station,
Ang Mo Kio Bus Interchange,
Bedok Bus Interchange,
Hougang Bus Interchange,
Jurong East Bus Interchange,
and Woodlands Bus Interchange.
 11        Commuters can look forward to additional TL Kiosks at Boon Lay and Tampines Bus Interchanges by the end of this year. More TransitLink e-Lobbies will also be made available at all Integrated Transport Hubs and major bus interchanges islandwide to serve the growing population of public transport users in Singapore.
 12        "At TransitLink, commuters are at the heart of our business. We strive to integrate services and solutions through technology to bring greater convenience to our commuters. By introducing the e-Lobby and our TL Kiosks, commuters now have more options to fulfill their travel needs with ease." said Mr Lee Yuen Hee, Chief Executive Officer, Transit Link Pte Ltd.