Press Release
$20,000 Donated to The Straits Times School Pocket Money Fund through the Unleash the Gates Campaign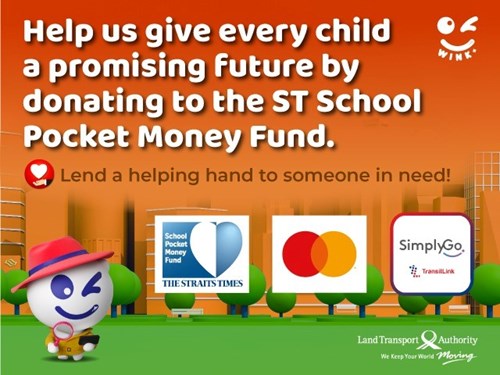 SINGAPORE, 21 APRIL 2022 – On top of successfully encouraging more commuters to use their contactless bank card[1] for public transport fare payment, the Unleash the Gates (UTG) campaign has raised a total of $20,000 worth of donations for The Straits Times School Pocket Money Fund (STSPMF). The campaign organisers, including Mastercard®, Transit Link Pte Ltd (TransitLink) and Stellar Ace, Stellar Lifestyle Pte Ltd's media and digital arm, would like to thank commuters and partners for their generous contributions which go towards helping children from modest-income families with their school-related expenses.
2     The 1.5-month long UTG campaign, held from 1 December 2021 to 18 January 2022, offered commuters reward points for using their contactless bank cards to pay for their commutes. Those who used a Mastercard credit or debit card were able to earn more reward points. The reward points earned could be redeemed as donations to STSPMF or for public transport fare rebates or WINK+ merchant deals.
3    As of end November last year, the monthly number of trips made by SimplyGo[2] users, who paid using their contactless bank cards or mobile wallets, constituted 23% of all monthly adult trips[3] made on public transport. After the campaign, this percentage increased to 25% at the end of January this year. The average number of daily trips paid using contactless bank cards also went up by 16% during the campaign, which translates to an average of over 760,000 daily trips.
4    Riding on the success of the UTG campaign, TransitLink has rolled out a new SimplyGo referral scheme. TL SimplyGo app users could receive up to $15 worth of NTUC FairPrice eVouchers when they invite their friends and family members on board SimplyGo. Once the invited friend/family member registers for a TL SimplyGo account using their unique referral code, add a contactless bank card[4] to their account and make 60 public transport trips with the added card within 30 days from the date on which his/her card was added, both users will receive a $5 FairPrice eVoucher each in their TL SimplyGo app inbox. The referral code can be used by a maximum of three persons for account registration. The campaign has commenced on 7 February 2022 and the promotion is valid while stocks last.
[1] Some debit, credit and prepaid cards are not accepted for public transport fare payments. Please refer to the SimplyGo FAQ for Contactless Bank Cards for the full list of cards that are not accepted for fare payments.
[2] SimplyGo, an initiative launched by the Land Transport Authority of Singapore, allows commuters to enjoy a "tap and go" fare payment experience by simply tapping their contactless cards or mobile wallets (i.e. Apple Pay, Fitbit Pay, Google Pay, and Samsung Pay) and account-based EZ-Link cards on the bus fare readers or train fare gates. Charges for public transport rides will be reflected in the commuter's credit/debit card bill or bank statement, similar to the experience for contactless retail transactions.
[3] Excluding trips made using a Concession Card, Standard Ticket and Tourist Pass.
[4] Contactless Mastercard and Visa credit and debit cards, or Mastercard and Visa credit and debit cards added to their mobile wallet.