Senior Citizen Concession Card
This convenient stored value travel card is specially catered for senior Permanent Residents aged 60 years and above for hassle-free concessionary travel on buses, the MRT and LRT.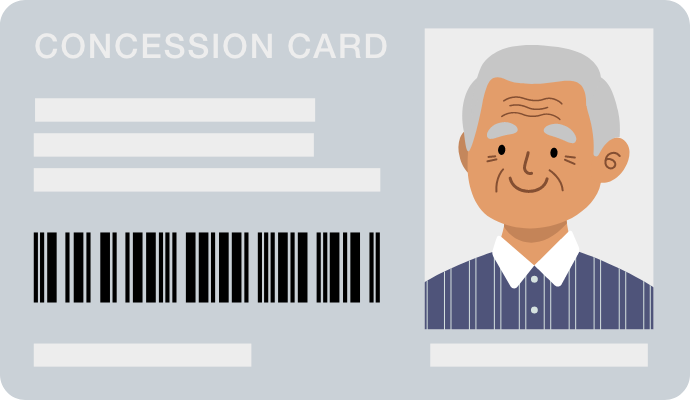 Eligibility Criteria
You must be:
A Singapore Permanent Resident
Above 60 years old
How to Apply
You may apply via the following channels:
You can apply for the Senior Citizen Concession Card one month before your 60th birthday. Please ensure that your application is received by TransitLink at least two weeks before your birthday so that you can receive and start using your concession card immediately afterwards.
Documents required:
1 x colour, passport-sized photograph*
Original NRIC (soft copy for online application)
*The photograph must:
- Be taken within the last three months
- Have a white background
- Show the full face from the top of the head to the chin
- Have neatly combed or tied up hair
Application Fee:
Free
Processing Time:
Your Senior Citizen Concession Card will be mailed to you between two and four weeks upon TransitLink receiving your application.
Card Activation:
Head down to any SimplyGo Ticket Office with your original NRIC to activate the card for use on public transport.

Any person activating the card on your behalf would have to present both your original NRIC and his/her original NRIC at the Ticket Office.
Card activation must be made in person to avoid card abuse.
Senior Citizen Concession card holders may only activate their cards from the actual day of their 60th birthday.
Monthly Concession Pass
In addition to concessionary fares, senior citizens can purchase the $64 Hybrid Concession Pass (HCP) for one month of unlimited travel on basic bus and train services.
With effect from 23 December 2023, the price of the HCP will be revised to $58
The HCP can be purchased at any SimplyGo Ticketing Service Centre, Ticket Office, SimplyGo Kiosk, Assisted Service Kiosk or via the SimplyGo Portal and SimplyGo app.
Note:
Concession cards have to be activated and valid before the purchase of concession passes.

Only ONE valid concession pass can be used on an individual concession card at any one time.

The concession pass can be activated up to seven days in advance of your intended travel start date. The validity period of the concession pass cannot overlap with that of the previously purchased concession pass, and commences from the beginning of bus/train operating hours on the activated concession pass's start date.

Unused concession pass of any part thereof is non-refundable.

You will still enjoy concessionary fares with your concession card even if you do not purchase a concession pass.

The concession pass cannot be used on Express and Premium Bus Services like Chinatown Direct Bus Services, Nite Owl bus services, NightRider services and City Direct Services. For more information on basic and premium bus services, please visit the SBS Transit, SMRT, Tower Transit, Go-Ahead Singapore website.
Card Validity Period
The Senior Citizen Concession Card has a validity of seven years. Expired cards can be replaced for free.
Card Return/Refund
You can return your Senior Citizen Concession Card at any SimplyGo Ticket Office.
For a refund of any remaining travel value, please produce your original NRIC/passport. The card will be retained for processing.
Anyone collecting the refund on your behalf will have to present his/her own original NRIC/passport in addition to the above-mentioned items.
Note:
If you decide to apply for another Senior Citizen Concession Card in the future, you will need to pay a replacement fee of $16.10 at the SimplyGo Ticketing Service Centre or $15.10 via self-help channels (online, SimplyGo app and SimplyGo Kiosk).
FAQ