Press Release
More Concession Card Replacement Offices Island-wide To Serve Concession Cardholders
New automated TransitLink Kiosk to facilitate the card replacement process
SINGAPORE, 13 MARCH 2017 – Over the past three years, the population of concession cardholders has grown from 1.5 million to over 1.9 million with the introduction of new and enhanced concession schemes for public transport. With a larger base of concession cardholders, the demand for concession card related services has risen significantly. 
Additional CCROs for Greater Convenience
2          On average, TransitLink issues more than 300,000 new concession cards annually under the various concession schemes, and processes about 100,000 lost card replacements. To meet the increase in demand for concession card related services, TransitLink will open its 9th Concession Card Replacement Office (CCRO) at the Bukit Panjang MRT Station on 13 March 2017. Located conveniently at Bukit Panjang MRT Station on the Downtown Line, this is an addition to the existing eight CCROs island-wide.
3          Our CCROs are located across the island at major transport nodes at MRT stations and bus interchanges, and are easily accessible by public transport. The full list of CCROs and their operating hours is listed at our CCRO page.
Presenting the New TransitLink Kiosk
4          To better serve the growing base of concession cardholders, TransitLink has developed an automated concession card replacement kiosk – TransitLink Kiosk (TL Kiosk) – to facilitate the concession card replacement process.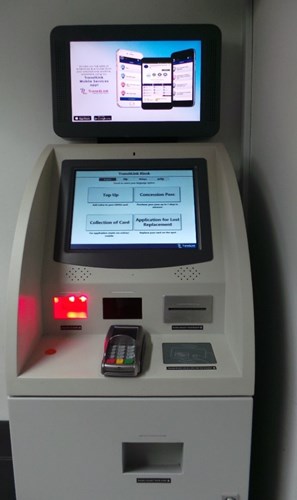 The TransitLink Kiosk allows commuters to perform on-the-spot application and collection of concession cards
5          The TL Kiosk, which will operate 24/7, allows on-the-spot application and collection of the concession card. Additionally, concession cardholders can apply online through TransitLink's website or on-the-go with the TransitLink Mobile Services app which can be downloaded from the Apple App Store or Google Play. Upon successful application, cardholders can collect the card at the kiosk on the same day using the QR code/reference number issued to them. The new concession card can be used immediately after collection. If they do not wish to collect the card at the kiosk after applying online, they can also opt to have it mailed to them.
6           Currently, the kiosk is able to process replacement concession cards of the following categories, and the service will be extended to cover all other concession schemes by this June.
Primary School
Secondary School
ITE
Diploma
Undergraduate
Full-time National Service
7          Besides replacement of concession cards, cardholders can also purchase concession passes at the kiosk. Other services available at the kiosk for all commuters include topping up of travel cards and redemption of travel vouchers, travel credits and Travel Smart Rewards. More services will be included progressively in tandem with commuter needs.
8          A TL Kiosk has been installed at our office at Buona Vista MRT Station as a pilot trial to allow concession cardholders to experience the replacement process at the kiosk, and for TransitLink to monitor the performance and gather feedback from users. As at end February 2017, over 800 card replacements have been made at the kiosk.
9          Following the success of the pilot kiosk at Buona Vista, TransitLink will progressively from June install an additional 10 kiosks at major transport nodes to benefit more commuters. "To facilitate the replacement process for concession card holders, we have provided several channels for them to obtain their replacement cards conveniently. We have added the 9th Concession Card Replacement Office at Bukit Panjang MRT Station and to increase the convenience quotient for our customers, we will be proliferating the TransitLink Kiosk which will operate 24/7." said Mr Lee Yuen Hee, Chief Executive Officer, Transit Link Pte Ltd. "The TransitLink Kiosk was built with our customers in mind. We are encouraged by our customers' positive experiences from using the kiosk so far, and will continue to improve and add other useful functions to the kiosk." he added.